The online shopping deadline may have long passed and it's probably too late to start that Christmas cake you had planned on making, but there's still time for a little bit of seasonal baking. So here are 5 of my favourites, most of which can be given as presents, to give you some festive inspiration.
Fudge
Most traditional fudge recipes require accurate heating and the use of a sugar thermometer, but I'm reliably informed that
this recipe
from self-proclaimed craft queen Kirstie Allsopp is pretty much foolproof. You could add extras like nuts or dried fruit, then cut into squares and package in a nice box to make a brilliant Christmas present for someone.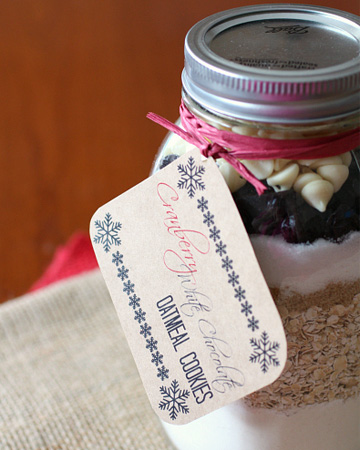 This is one of my favourite homemade gift ideas and can be done with any biscuit or cookie recipe you like - even brownies or cupcakes could work! You just layer the dry ingredients in a pretty jar and attach a label with the recipe written or typed (if it's the kind of biscuit that is rolled and cut out then another nice touch is to include a festive cookie cutter). Also great if you're on a budget as flour, sugar etc is relatively cheap.
Cinnamon Rolls
I'm planning on making
these
for breakfast on Christmas morning. They're not exactly a 5 minute job but I'm hoping to make the dough and let it have it's first rise on Christmas Eve, then pop them in the fridge overnight and get them out about half an hour before baking in the morning to give them chance to rise a little bit more. I might halve the recipe though as I don't think we
really
need 12 buns between 2 adults and a baby!
Chocolate Bark
This is just a fancy name for melted chocolate spread on a flat surface and sprinkled with anything you like - chocolate chips, nuts, dried fruit, sweets etc. Peppermint bark is my favourite for Christmas, made with white chocolate and crushed candy canes à la
Martha Stewart
. Break into shards and pop into cellophane bags tied with ribbon for a great last minute gift.
Rocky Road
I fell in love with Nigella's
Christmas Rocky Road
as soon as I saw it on one of her Christmas specials. It's got more exotic ingredients than the usual recipe but you could easily replace the amaretti biscuits with digestives and the brazil nuts with whatever whole or chopped nuts you have hiding around the cupboards and it would be just as delicious. It's also another no-bake recipe leaving your oven free for Christmas dinner preparations!